A special shout-out and thank you to Travis and Dan for filling in for me this weekend.  I was out of town for the last game of the year and they both stepped up big time an I very much appreciate that.  I haven't even had time to watch the Baylor game, but I did watch the Air Force game, so I'm slowly catching up. High five.  Also, I have written near 5,000 words on Texas Tech's uniforms and I hope to post it later today, probably this afternoon.
Mahomes and Webb Both Have Injuries. It was confirmed by Blayne Beal that QB Patrick Mahomes has a left wrist injury which occurred during the Oklahoma game (allegedly) and QB Davis Webb will have surgery on a torn labrum in his left (non-throwing) shoulder. I've known about Webb's injury since it happened and if you ever wanted to know why I wasn't going to give him a hard time afterwards, this was the reason why.  He was (allegedly) playing through a lot of pain and the fact that he was even suited up and ready to play should the need arise says a lot about Webb.
I didn't know about Mahomes situation, although I had a hint that something was wrong after the Oklahoma game that could affect his spring plans, which would include baseball and football.  There was even the thought that Mahomes might not play against Iowa State last week (from what I've been told) and that also makes him a tough S.O.B.
Mahomes Almost Does It. LAJ's Don Williams writes about how Mahomes almost pulls off the improbable and opines on the quarterback derby that will start in just a few months as Stephenville's Jarrett Stidham will arrive in January:
Mahomes might also have a better chance to take control of the position in the spring, given news late Saturday that Davis Webb will have surgery this week on his left shoulder, the one he hurt in the Sept. 25 Oklahoma State game. ESPN.com first reported it, saying Webb could miss the spring. Tech spokesman Blayne Beal confirmed Webb will have surgery, but said he is expected to be ready for spring.

Of course, quite a few Tech fans already have written off Webb, or tried to.

They've been ready to hand the job to Stidham as soon as he walks in the door.

With what Mahomes has shown over the last month, and what Webb's capable of after two years of playing in the system, the Red Raiders might do well to redshirt Stidham. I think Mahomes can handle the job, and I think Webb can bounce back from a disappointing season. There's no need to rush Stidham, not with two quarterbacks returning who have played in 25 games between them, starting 18, one with a bowl MVP trophy, the other with a Big 12 freshman record.

If Stidham's head and shoulders better than both, more power to him.
Nothing to Lose. LAJ's Nicholas Talbot writes (in one sentence paragraphs) that Texas Tech played like they had nothing to lose:
For one of the few times this season, the Red Raiders put themselves in position to win the game.

The entire team was aggressive.

Tech ran 88 plays - 13 plays more than it had averaged this season and a lot closer to what it had done last season when it went 8-5.

When the Red Raiders play fast and with nothing to lose, they are dangerous.

It is the way Kingsbury hoped the team had played all season.

It didn't.

And because of that, the season is over.

Because of that, Texas Tech finished 4-8.
Oh, happy Monday y'all!
Brown to Troy and Morris to SMU. I'm probably one of the few folks that really liked Texas Tech's former offensive coordinator Neal Brown, but I do, and congrats on being named the head coach at Troy, which where he was the offensive coordinator prior to arriving at Texas Tech.  And Chad Morris, the offensive coordinator at Clemson, who was the runner-up to the Texas Tech head coaching job, will be named the head coach at SMU.  I'm going to be very interested how Morris will recruit at SMU and Dallas in general. He knows Texas and I would have been more than happy with Morris as Texas Tech's head coach had Kingsbury not been in the picture.
Mahomes and Oakman Did Some Things. Patrick Mahomes did some really good offensive things and was FoxSports' David Ubben said that Mahomes was the best Big 12 offensive player of the week.
Best offensive performance: Patrick Mahomes, QB, Texas Tech. You have to do a lot to win this in a losing effort and Mahomes did, well, a lot against Baylor. He threw six touchdown passes and racked up 598 yards on 30/56 passing against a Baylor defense that had given up just 248 yards a game in Big 12 play this season. He did it all with an injured non-throwing wrist that may require surgery, too.
Oh, and Baylor DE Shawn Oakman must have slipped or something: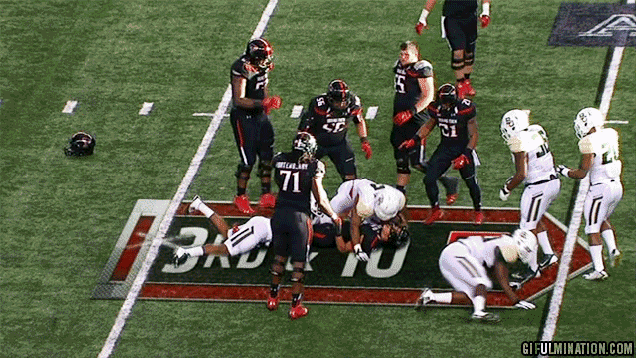 Miscellaneous. The LAJ staff has a notebook of things, including Baylor DE Shawn Oakman's knee to Mahomes' face, Kingsbury's decision to go for two, Ryan Bustin's day and the patchwork secondary . . . SAEN's Tim Griffin with his weekly ranking of the football programs in Texas . . . FoxSports' David Ubben with his Big 12 power rankings . . .