Over the last few years, Texas Tech's football uniforms have been a hot topic of discussion. Some uniform combinations have impressed while others have disappointed. So we are starting a new series at Viva The Matadors to find out which Red (or white or black or grey) Raider uniforms you, the fans, like the most.
The seeding for the tournament is outlined below, with a brief reason for the seed and a picture of the uniform from a game it was worn in. While we couldn't reach an absolute consensus as a staff, the seeding is a general guideline of how the writers at VTM feel about each uniform combination (though admittedly there were some specific points of disagreement *cough* Lone Star Pride *cough* ombré).
#1 Seed: Black Throwbacks - A classic look that most people really liked. I'm also very partial to the old school Double T.
#2 Seed: Black/Red/Black - Everyone loved these too, especially as they were rolled out after the team hadn't worn red in years.
#3 Seed: Black/Black/Black - This is the sharp, standard look worn at most home games.
#4 Seed: Black/Red/Red - More flashy, this pleases a lot of fans who are more tired of the all black and want to see more red.
#5 Seed: White Throwbacks - Not only were these worn in two huge road wins last year (at Arkansas, at Texas), but they look sweet as well.
#6 Seed: Grey/Grey/Grey - These were a little more hit or miss with the fans, but I really liked the all grey look.
#7 Seed: Black/White/Red - This is a sharp road look that hasn't been worn since the Leach era I believe.
#8 Seed: Black/White/Black - Classic road look that has transcended different generations of Texas Tech football.
#9 Seed: Grey/White/Grey - Again, the grey is hit or miss, but I think this is a pretty good twist on our road uniforms (though they might be bad luck since we're 0-3 in these with losses to OU in 2013, TCU in 2014, and West Virginia in 2015).
#10 Seed: White/White/White - The white helmets on the road are fairly new to Texas Tech football. Personally, not a fan, but some like the storm trooper uniforms. To me it just doesn't look like Texas Tech without a little red and/or black.
#11 Seed: Black Lone Star Pride - Another hit or miss combo, but many fans were glad not to see them again in 2015. I thought the helmets were a little much, but the rest of the uniform was pretty sweet.
#12 Seed: Black/Black/White - For some probably irrational reason, I hate wearing white pants at home. Not a fan of these.
#13 Seed: 2013 Holiday Bowl, Black/Grey/Black - I would have liked these better if the colors were switched and it was grey helmets, black tops, and grey pants.
#14 Seed: White Lone Star Pride - I never met someone who liked these, but at least they're unique(?).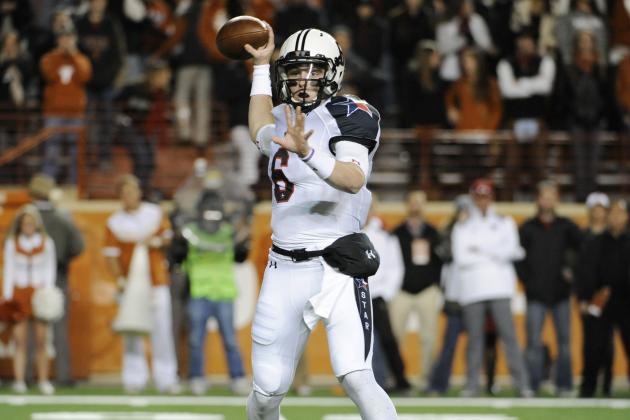 #15 Seed: White ombré - I kind of liked the helmets on these. The rest was awful.
#16 Seed: Black ombré - My eyes are burning. The literal worst uniforms I've ever seen.
We are really looking forward to settling this debate once and for all (until the next batch of new uniforms is rolled out). Starting tomorrow with the #1 seed vs. #16 seed, we will roll out one matchup per day, y'all will vote in the poll at the bottom of the article, and eventually we will crown a winner.