It's going to be a quiet day today, at least in comparison to yesterday where I was struggling to get out the content after an eventful Friday night.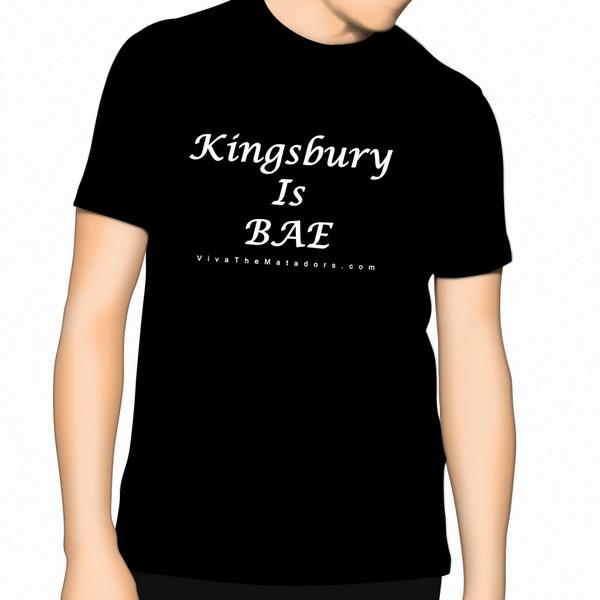 Kingsbury is BAE. Yesterday morning, it hit me like a ton of bricks that there "needed" to be a "Kingsbury is BAE" t-shirt and I was the guy to do it.  And if you are worried that you don't know what BAE means, you're not alone. It is a fairly recent internet phenomenon, but essentially it means, "before anyone else".  That's right, "Kingsbury is before anyone else" (Don't be literal, think about this if you were a teenager talking to your teenage heartthrob.).  I also know that you might be saying, "We'll, I'm a guy, should I be wearing this?"  Um, in a short answer, yes. Kingsbury is BAE y'all.
Roster Analysis. Via the LAJ, a short blurb about each player and a quote from a coach.  Check out the link for the quotes, I just summarize:
* IR Cameron Baton: Currently behind Jakeem Grant and Jordan Davis at H-receiver, but will have special teams opportunities.
* IR Ian Sadler: Currently at teh Y-receiver spot, will play the best of Batson and Sadler this year.
* IR Brent Mitcham: Is insurance at either inside receiver spots and also plays special teams.
Nelson Chose Between Texas Tech and Harvard. A nice profile from the LAJ on CB Justis Nelson, who had the choice between Harvard and Texas Tech when decision day arrived.  Nelson is following in his parents' footsteps and majoring in criminology and his mom talked about that choice:
"He is a good kid and he has a good head on his shoulders. ... Of course we talked about the benefits of going to Harvard," said Scott, who was with the Dallas police department for 32 years. "He said, 'I know you want me to be successful, and I know at Harvard I will be. But I am going to be successful anywhere I go. It might just take a little more time.'"
RaiderPark. This is marginally related to Texas Tech football, but the parking lot RaiderPark still seems to be a thing and the guy that owns it says that it could prove to be profitable in a couple of decades or so.
Top 8 Plays.
More from Viva The Matadors